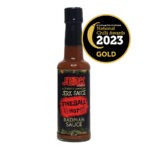 Badman Fireball Hot Jerk Sauce, 5oz
Badman Fireball Hot Jerk Sauce
The sauce is known to turn boys into men. Badman Fireball Hot Jerk Sauce doesn't just pack unforgiving heat. It also has the most beautiful flavour. The aroma from this sauce can instantly transports you to a Jamaican granny's home, on a Sunday. Cooking in the kitchen, for her family.  The authenticity can be smelted from outside and make's you can't wait to grab yourself a plate.
Badman Sauce along with our other Jerk Sauce are also used as marinade. Check out this tiktok for a quick example and see how you can make Authentic Jamaican Jerk Chicken 
Use as a Marinade
Use as a Sauce
Distilled Water, Scotch Bonnet, Nutmeg, Cinnamon, All Purpose, Ginger, Mixed Herbs, Thyme, Cloves, Concentrated Tomato Paste, Olive Oil, Lemon Juice, Pimento (allspice), Vinegar
Store in a cool dry place, once opened keep refrigerated and use within 12 weeks. Shake well before use.
| | |
| --- | --- |
| | Per 100ml |
| Energy | 348KJ/83.8Kcal |
| Fat | 6.1g |
| of which are Saturates | 1.1g |
| Carbohydrates | 6.4g |
| of which are sugars | 4.9g |
| Added Sugar | 0.0g |
| Fibre | 1.4g |
| Protein | 1.2g |
| Salt | 2.3g |