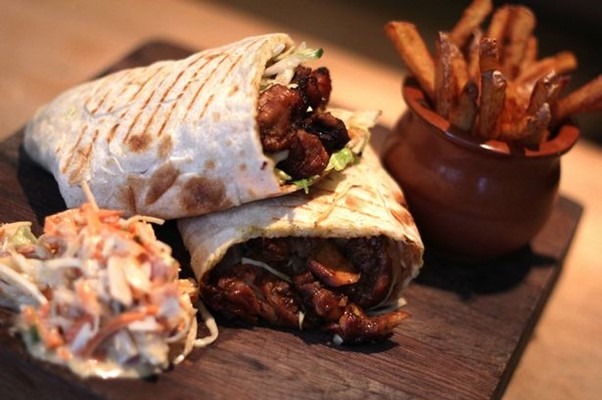 1 large chicken breast (remove the skin and wash with lemon and vinegar)
1 small brown onion sliced
1 red, orange, or yellow bell pepper
1 spring onion fine chopped
1 tbs olive oil
4 tbs of your choice of Jerk Centre Hot sauce.
2 large tortilla wraps
2 leaves of shredded Romanian lettuce
3 cherry tomatoes halved
1 clean bowl large enough to hold all your chopped ingredients.
Cut your chicken breast into small chuck and place in a clean bowl. Finely chop all the veg and add to the bowl. Ad the olive oil, and choice of Jerk Centre Hot Sauce. Mix till all coated, then leave for at least 1 hour. Next heat a medium size pot and place the mixture into the pot. Stir then put a lid on the pot and cook on a low heat, to avoid burning the contents. Cook for a minimum of 30mins.
Final step:
Heat tortilla wrap in microwave for 20seconds
Place the warm tortilla on a plate.
Place the cooked chicken onto the centre of the wrap. Then place the Romanian lettuce and cherry tomatoes halves on top. Then lastly roll the wrap and get ready to tuck in.